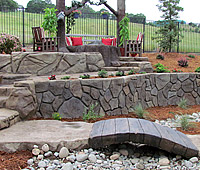 Why StoneMakers?
The number biggest problem with natural stone walls, waterfalls, patios and other hardscape features is the cost. This problem has been solved with the development of the StoneMakers product line and processes that cut installation costs tremendously by significantly reducing installation time.
The second issue with the use of natural stone in a landscape is that it can deteriorate and begin to collapse within a few years. Stones are loose, and mortar cracks around the joints. With StoneMakers hardscapes, you will never have loose stone or mortar because they're made with a single concrete pour that is sculpted, shaped, carved and colored by our craftsman.
Will my project be covered by a warranty?
Yes! Every StoneMakers project from Retaining Wall Solutions, is covered by our Ten Year StoneMakers Warranty. All concrete will eventually develop cracks due to freezing, thawing, and pressure, but StoneMakers technology – which includes single-monolithic-pour construction, custom coloring, hand carving, and control cutting – minimizes the look and effect of possible cracks.
How durable is the product?
The process we use when mixing the concrete increases its strength up to over 8000 PSI. A typical concrete sidewalk or floor is 3000 to 4000 PSI. Concrete strength is measured by ASTM-sanctioned:
Core Testing
Penetration Resistance Testing
Rebound Testing
Click here to download a pdf about testing concrete strength.
Will the color be what I expect?
We strive to blend the color of your StoneMakers project to meet your expectations. As you observe the color of stones in your landscape, you will notice that they come in all different hues of white, grey, gold, brown, red, blue, and even black. There are wide variations and that is what makes stone work so beautiful. Concrete also exhibits color variations, especially if the project requires more than one load or if the placements are made on different days. Therefore, every inch of your finished StoneMakers product may not match precisely with the color of your sample stone, a color chart, or a photograph. But such variations are not only minor – this all contributes to the natural look of your hardscape.
How long with the finish last?
Finishes will last for many years on walls and typically 3 to 7 years on walks and steps where foot traffic is high. Resealing is highly recommended on any concrete product and can be easily performed, just as you would repaint your home or re-stain a deck.
How long with the color last?
The actual concrete color will stay fast even under heavy foot traffic. Should the hardscape feature be scratched by a mower rubbing against a wall or chipped by a hard object, it can be touched up with stain and sealer. We can also add an integral color (typically earth tone) to the concrete before the pour to minimize the appearance of any scratch or chip.
Is concrete maintenance-free?
Concrete is one of the most durable products available; for the most part, it can be ignored and allowed to weather. But if you want your StoneMakers hardscape to look as good as the day it was installed, you will want to perform some simple maintenance (recommended for any concrete surface):
Keep leaves from accumulating on your concrete surfaces over the winter and staining them.
Wash off any salts or chemicals you may get on the surface.
If the finish begins to wear off, especially in traffic areas, apply a new coating of sealer.
How long does the installation take?
Our unique process allows us install hardscape features in 1/2 to 1/3 the time of installing features made of traditional materials. For example, a 3' high by 100-foot-long wall would be excavated the first day; poured, sculpted and carved the second day; and colored, sealed and backfilled the third day. Smaller projects often can often be finished in a single day.
What type of stone can be carved and colored?
If you can imagine it, we can make it.
Bluestone
Brownstone
Country Rock
Field Stone
Granite
Slate
Large Boulders
Cliff Rock
Slabs
Do I need to worry about cracking?
An old concrete contractor once told me "there are two guarantees with concrete, it's going to crack and no one is going to steal it". Concrete will naturally crack, and we cannot guarantee that there will not be any cracking because heaving from frost does occur in our area. With the StoneMakers process, however, a crack will not harm the hardscape. We use high strength concrete, rebar or wire mesh reinforcement, and natural control joints to increase stability and durability. If a crack does occur, it would typically happen in the joints of the stone work where it is not noticeable. If a crack appears in an unexpected area, we can carve in a new simulated joint over the crack, touch up the area with stain, thereby minimizing its appearance.
What about Efflorescence?
Efflorescence is the loss of water by crystallization from a hydrated or solvated salt to the atmosphere or exposure to air. There are two main types of efflorescence, primary & secondary. Primary efflorescence can begin as soon as concrete begins curing, it happens from the inside out. Basically it is simple to understand how it happens, but nearly impossible to prevent. As the water begins to evaporate from the concrete, the moisture that is being pulled out to the surface carries any dissolved salts & impurities along with it. As the surface dries it leaves a white powdery residue that will ultimately crystallized and harden. Since primary efflorescence brings out salts that are not normally part of concrete it is not a structural issue, but rather an aesthetic one. Over the years, a lot of time and money has been spent trying to prevent and stop efflorescence from occurring. We do try to and take steps to limit the chance of efflorescence occurring in your hardscape. The first thing we do is use twice washed sand (where available) in our concrete mix. By washing the sand twice we will have better success in removing the salts and impurities. The second is to mitigate the efflorescence with the addition of StoneMakers Wall Builder. Part of the chemical makeup of SM Wall Builder is that it has a water reducing admixture. Less water means stronger concrete and less efflorescence. Secondary efflorescence is easier to understand. It is caused by the environment around concrete that causes salts to land on the surface and leave its residue behind. This can be a result of road salts, residue from rain/irrigation, etc…. This type of efflorescence can occur in any type of environment, cold, hot, wet, or even arid conditions. If efflorescence is addressed when it first occurs on your decorative concrete it can probably be removed by washing/scrubbing with water and a soft bristled brush. If it has begun to crystalize and is very hard instead of being powdery there are a lot of different options to try that might give you modest results.
What is GFRC?
GFRC (Glass Fiber Reinforced Concrete) is concrete that contains alkali-resistant glass fibers, making it lighter than but twice as strong as concrete without the fibers. Have you ever gone to pick up a piece of statuary or a planter expecting a very heavy object, only to lose your balance when it is much lighter than it appears? Most likely it was made of GFRC. One of the most common uses is in artificial rocks made for outdoor decorative structures like fountains and waterfalls.